INCREDIBLE News For Girls Who HATE The Contraceptive Pill
Scientists have revealed they're one step closer to creating a male version of the pill that will give men more control over their fertility than ever before! The pill works by temporarily stopping a proteing sperm from working, which essentially means their swimmers are unable to fertilise a woman's egg.
It's great new for men and women alike, with some women unable to take the pill for medical reasons. Unlike the pill for women, the male pill will act almost instantly and can be taken shortly before sex. It's understood it may even last for several days! Other options like a skin implant and a nasal spray are also being discussed.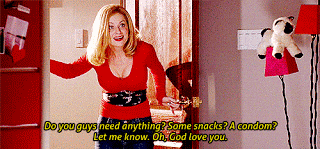 This GIF has everything: amy
Researcher Professor John Howl from Wolverhampton University says the results are startling.
"When you take healthy sperm and add our compound, within a few minutes the sperm basically cannot move. This is a totally unique approach – nobody else has ever done this before," he said.
The only downside is the pill won't be available until 2021 due to further testing.