ARTIFICIAL. It's a scary word. Surely all the best things are real, right? Well, not always.
Whether you're sipping gluhwein in an artificial ice bar during the peak of a Munich summer, or sitting front-of-stage at a musical with fake smoke billowing down the aisles, sometimes fake is better.
One such case is faux plants. Here are four reasons why faux plants are the real MVPs.
Getting Back to Nature
I know, I know. Greyish-blueish-whatever is all the rage now for modern interiors. But by introducing a little bit of greenery, you'll add a whole other level to your home, evoking the natural surroundings of whichever climate you fancy. You don't have to go crazy with it either. Even a small potted succulent on the coffee table can really make the space pop.
Variety
Desert cacti, needle succulents, a frangipani spray, wheat stalk, bamboo grass, staghorn vines, palm leaves, potted ferns, narrow aloe plants — they're just some of the see-it-to-believe-it artificial plants on offer at Domayne. There's a whole world of greenery out there. Go explore!
Low Maintenance
No matter which plants you choose, they will require the same love and attention as all faux plants: pretty much zilch. Sure, some light dusting every now and then will keep them looking vibrant and clean, but there's no over-watering, under-watering, worrying if they're getting enough sun. Just set and forget, so to speak.
Lifestyle Versatility
Because they're so easy to maintain, you can achieve the green home you've always wanted, no matter your lifestyle. Like to jet-set around the globe? No worries. They'll still be just as green when you get back. Too busy to care for a garden? Fear not my flora fanatics! These babies care for themselves.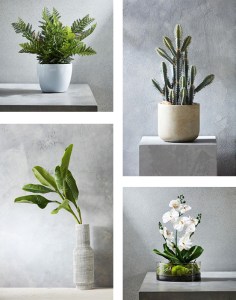 So what are you waiting for? Go get some greenery and start arranging to your heart's content. And for some handy styling tips and tricks, check out Domayne's artificial plant range here.

Author
Chris Tankey