Alright, let's be real with each other for a second. We could all do with a little more greenery in our lives. A little more relaxation. Some time to just kick back and unwind amongst the trees. Oh, what's that? A mojito in the rainforest? Sign me up. But have you looked around lately? Greenery is a little hard to come by.
If you're lacking that little extra something that greenery gives you, that tiny piece of serenity, that sense of space, you don't have to jet off overseas. Of course, you could — and if you want to buy an extra ticket for me that'd be great, I'm an excellent traveling companion — but you could just use these simple tips to help style your home into your own personal oasis instead. How cool is the inspiration above? All items can be found at Domayne.
Get playful with patterns and textures
Bring a little wilderness into your seating areas with some tropical-print cushions; or introduce some touch-and-feel with a tasseled evergreen throw. By mixing patterns and textures, you'll breathe new life and a sense of space into your living spaces.
Splash the greenery.
Create your own evergreen retreat with wall-mounted plants and well-placed ferns. They don't even have to be real. Faux plants can give your home an ever-present sense of serenity, with no maintenance required. Add a little splash of green here and there for a restrained tranquility or go crazy and unleash your wild heart with vines, cacti and herbs, oh my!
Bring the outdoors indoors.
Give your home a distinctive look with outdoor accessories. Bamboo chairs, a lantern on the side table. Incorporating some stone or wood will really complement the greenery in your home and lift the entire space. You'll almost be able to hear the birds. Especially if you already have birds. Then you'll definitely hear them.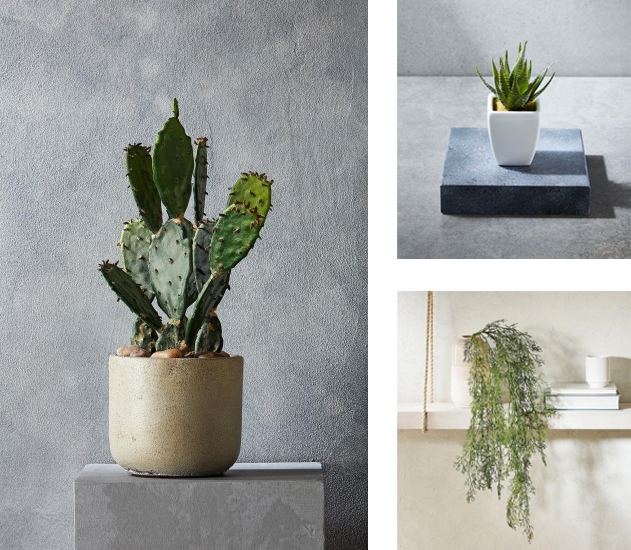 There's no end to what kind of green haven you can create. For styling tips and tricks, check out Domayne's Greenery range.

Author
Chris Tankey