While international travel is off the cards for Canberrans at the moment Kristen & Nige had the opportunity to give their listeners the closest thing they can get – A Royal Experience. It may not be a tour of Buckingham Palace or Trafalgar Square but the next best thing. A high tea followed by a tour of the brand new Botticelli to Van Gogh exhibition at the National Gallery of Australia.
To really give the event a genuine sense of Royalty, Kristen and Nige invited only those with Royal names such as Harry, Elizabeth, Charles , Elizabeth, William etc. It would appear by the number of entries we had that there are a lot of "Royals" listening to Mix 106.3 and a lot of "Royal" interested in seeing the Botticelli to Van Gogh exhibition.
What could be more Royal than some of the worlds most iconic artworks borrowed direct from the Royal London Gallery with the permission of the Queen of course together with a high tea fit for the Royal Family including delicious cakes and sweet treats, AND MOST importantly Cucumber sandwiches and fancy savoury pastries all served on exquisite silver platters accompanied by the Queen's favourite beverage…..English Tea presented in " Royal Standard" Tea pots.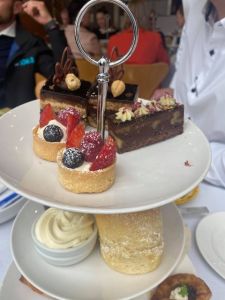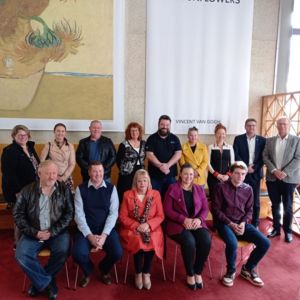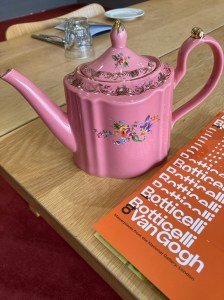 So what did the Kristen and Nige think of the experience?
Kristen said, "The food was beautiful, the exhibition wonderful and PACKED. I think what I liked the most was seeing all the different school uniforms from students around Australia in Canberra to see the exhibit. It's around 75% of visitors to the exhibition are outside CBR, so thank you to the National Gallery for bringing tourists to our beautiful city".
Nige also loved it, "I'm still reeling from the excellent teapots. I've had tea before, but never like this. If you're on the sniff for an Earl Grey with your pinkie extended, look no further than the NGA, friends!"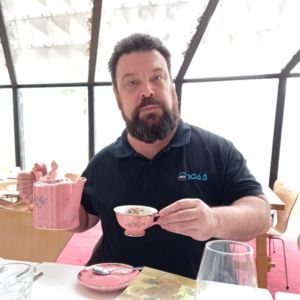 If you are yet to visit the exhibition, Kristen and Nige think you should! So it is time to book.
Exhibition Details:
Botticelli to Van Gogh: Masterpieces from the National Gallery, London is organised by the National Gallery, London, Art Exhibitions Australia and the National Gallery of Australia. The exhibition began on 5 March and will finish on 14 June 2021.
Botticelli to Van Gogh: Masterpieces from the National Gallery, London is the first time in its near 200-year history that the National Gallery, London has toured an exhibition of works internationally. Drawing on the strengths of their collection, this exhibition offers a rare opportunity to see 61 paintings by some of Europe's most revered artists, including Botticelli, Titian, Rembrandt, Vermeer, El Greco, Velázquez, Goya, Turner, Constable, Van Dyck, Gainsborough, Renoir, Cézanne, Monet, Gauguin and Van Gogh.
Limited tickets are available and can be purchased here.