You may think you're a Mojito master, or even a Gin and Tonic genius! But do your Pina Colada's really have the perfect presentation?
For a flawless finish that's sure to impress your guests, it all comes down to the right Glassware. And you may've been doing it wrong all along…
Here's the top glasses you need for your home cocktail collection and the correct way to use them.
Coupe Glasses
The number one cocktail glass that should be on your list is the Coupe glass. These glasses have a wider rim making them perfect for garnishing. Plus, their round shape makes them much more forgiving when it comes to spillage.
If your bar is lacking these must-have glasses, look no further than Domayne! They have a range of beautiful glasses that will boost up your collection, like the detailed cut-glass Winston Coupe glass.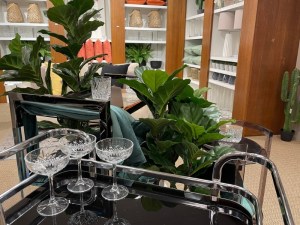 Any shaken or stirred cocktails that're served without ice will work great in a Coupe glass, including…
Charlie Chaplin's
Strawberry Daiquiri's
Highball Glasses
An essential in any home bar, these glasses are designed to be filled nearly to the brim with ice to keep your drink cold while you enjoy it! Highball glasses are perfect for any tall drinks using a large portion of non-alcoholic mixers, like…
Bloody Mary's
Mojito's
Vodka Soda's
Martini Glasses
Believe it or not Martini glasses aren't just used for Martini's! These glasses are designed with a long stem to prevent your hand from warming the drink when holding it, so it's perfect for any stronger cocktail served without ice, including…
Cosmopolitan's
Manhattan's
Espresso Martini's
Rock Glasses/Tumblers
This classic glass' main purpose is to hold neat spirits or spirits on the rocks, with its wide shape making it perfect for stylish oversized ice cubes. They're also suited to stirred, chilled cocktails that require muddling, like…
Negroni's
White Russian's
Old Fashioned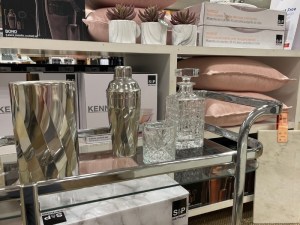 Shot Glasses
Last but not least, a staple for those wilder nights is of course shot glasses. These glasses are designed with a thicker base to prevent it from shattering once you've slammed it down on the bar after a straight shot of liquor or mixed shooter, like a B-52.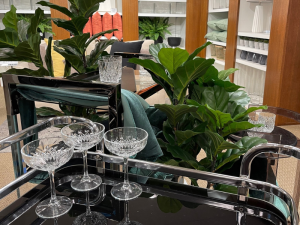 To find out more and to explore the full range, go see Trent and the team at Domayne today.
Mix106.3 has partnered with Domayne Fyshwick to help you pick the right candle of diffuser for your home.