It's a story many of us have grown up with, that's now transformed into something magical in our neighbourhoods!
Teddy bear hunts are taking off around the capital, as something fun and safe for families to do, during this tough time.
It's based on the well-known book "We're Going On A Bear Hunt" by Michael Rosen.
"The teddy bear hunt is consistent with current health advice regarding social distancing. There is no specific event, or time or place for people to gather, so it is something families can do while out on exercising or on a walk by themselves that they might go on anyway, President of the Crace Community Association, David Pollard, said.
"With over 600 teddy locations in Gungahlin, every family can go for a quick 20 minute walk in their own time and very likely see more teddy bears than people!"
Mr Pollard has created a map online to help people find teddies around the capital.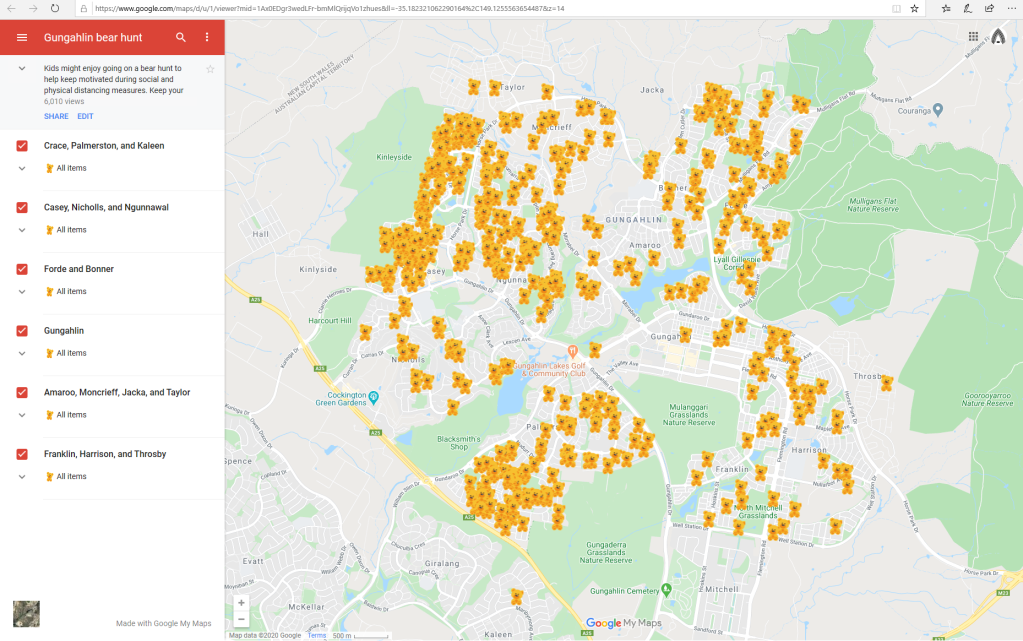 The map started with just Crace but took off in no time.
"Very quickly we started getting people from other suburbs around wanting to put theirs on the map as well," Mr Pollard said.
"I have been collecting addresses for a couple of days now, but we're over 600, and there's more that've come in overnight, it's fantastic to see!"
Mr Pollard said the way Canberrans have embraced the idea has been really heart-warming.
"Everyone loves to help and at the moment, we all kind of need help. We may need help getting the kids excited about going for a walk, maybe it's just help to feel good for a little while, but everyone wants to pitch in. It's such an easy thing to do."
You can check out the map and find more information on the Gungahlin Region Teddy Bear Hunt Facebook page. Happy hunting!
For more information on social distancing guidelines, visit the ACT Health website.