You've all heard the saying – "a dog is man's best friend."
As Canberra pet lovers would agree, this couldn't ring more true.
But despite how much we love our furry friends, for some of Canberra's most vulnerable, it's not possible to look after them 24/7.
That's where the Rainbow Paws Program Annual Raffle comes in!
It raises money for the Hotel Bookings program, that helps vulnerable locals access safe and affordable care for their pets, in times of need.
"That provides boarding for people who are homeless and they might have a pet. If you have a pet, you can't go into a refuge with that pet, so we put them into boarding. If you're in hospital, often you might not have someone to look after your pet, so we put them into boarding. So this raffle is raising money for that program," Natarsha Lawrence, President of the Rainbow Paws Program, said.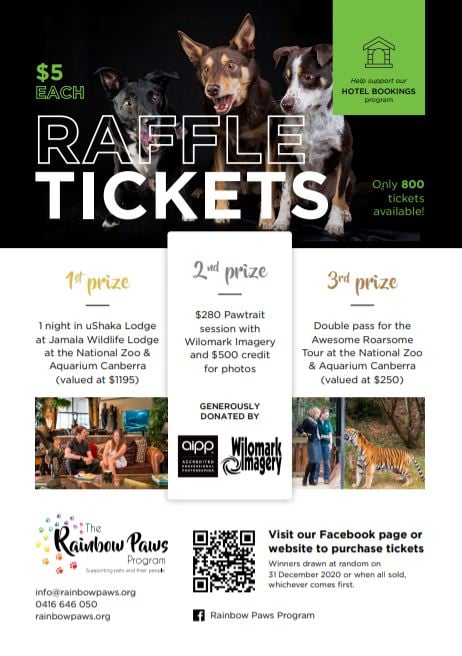 "We have three amazing prizes up for grabs! First prize is a night at Jamala Wildlife Lodge. Second prize is a Pawtrait session with Wilomark Imagery and the third prize is an Awesome Roarsome Tour at the National Zoo and Aquarium."
Like many other charities, the Rainbow Paws Program has seen a drop in donations, due to COVID-19.
But you can help raise money for this great cause, by buying tickets to the Annual Raffle today!
Tickets are just $5 each, with winners to be drawn on December 31, or when all tickets are sold.
Just head to their Facebook page for all the details!
Author:
Renee