The results are in for the Solider On 'March On' challenge hosted throughout March. Over $1,843,000 was raised to prevent veteran suicide.
'March On' is a fundraising event ran by Solider On that challenged people individually or in a team to walk or run 96km over the month of March. This fantastic event pays tribute to those soldiers in Kokoda in World War II. The 96km represents the length of track that was defended as the Kokoda battle was widely known as a strategically significant.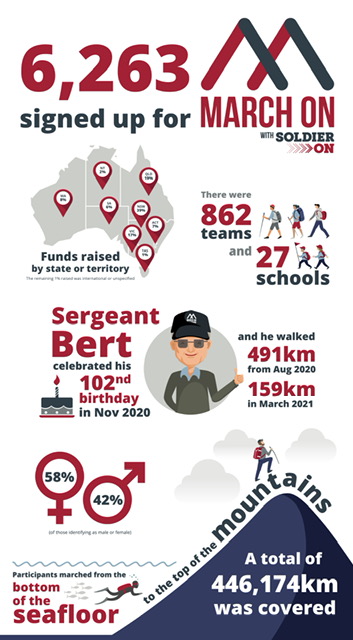 The goal was to raise $1 million and to exceed that by $843,000 means the event was a huge success. More than 6,200 individuals participated which was made up of 862 teams and 27 schools. Participants registered from around the world with people competing in United Kingdom, United States of America, Malaysia, Indonesia, Vietnam, Canada, New Zealand and France. In total 446,174km was walked and run throughout the month.
Funds raised from the event have allowed Soldier On to put on more Psychologists, Counsellors and offering more social connection services to help prevent veteran suicide. What a great result. Hopefully the event will return in 2022!
Want to find out more about Soldier On?
Soldier On is a not-for-profit that provides support and services to serving and ex-serving veterans and their families to help them thrive. It is Australia's only national fully integrated and holistic support services provider for our national service personnel and their families. Soldier On's services include a wide range of mental health and wellbeing, employment support and education programs as well as activities focused on connections with family, friends and the broader community.
Mix106.3 partners with organisations to provide you with content that may be of interest to you.

Find out more about Solider On and the services they office, visit their website.