For our final Women in Business interview for 2020, I spoke to Lexi Bannister. Lexi is a hair genius. Simply take a look at her salon's Instagram and you'll see what I mean. She started in the industry when she was 20 years old, and hasn't looked back. In February 2018 she opened her very own salon, and now leads a team of specialised stylists. When Lexi had a spare moment to sit down and talk (which doesn't happen often!) I had the chance to chat to her about all things, business and career…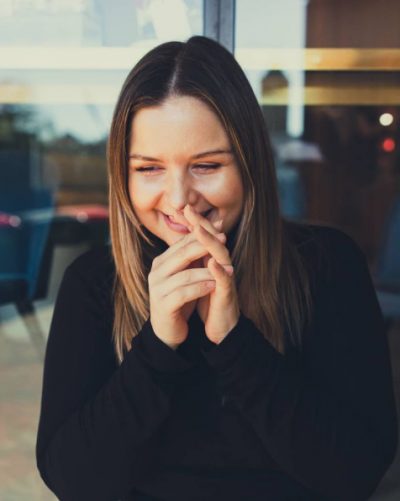 Sammy: Tell us a bit about yourself, are you from Canberra originally?
Lexi: I'm a French (my mums side are from Paris) Canadian (my dads side, Newfoundland to be exact) born on a Canadian base in Germany (I'm a CAF and RAAF brat). I came for a visit to see my Dad when he was posted in Canberra from Brisbane and decided I could really live here!' I love finding cute bars or restaurants! Canberra has so much to offer you can always find a new gem hidden somewhere.
Sammy: How'd you get into hairdressing? Was it something you were always interested in?
Lexi: To be honest I always liked doing hair but I wasn't ready to do my apprenticeship when I finished year 12 so it wasn't until I was 20 I started my hairdressing career. Its a pretty big commitment to live off what the wages were back then. Hair was something that always felt natural to me so I kind of new it was something I would start eventually.
Sammy: What have been some of your career highlights so far?
Lexi: My biggest career highlight is opening my own salon, and having amazing talented people who wanted to be a part of that! I was always happy working for someone as long as I was looked after and rewarded very well for efforts, so to have this happen is a pretty big thing for me! I've been able to work with some amazing people in the industry as well like Edwards and Co and Valonz. Everywhere I've worked I've been able to take something away to help myself improve, and build upon my skills.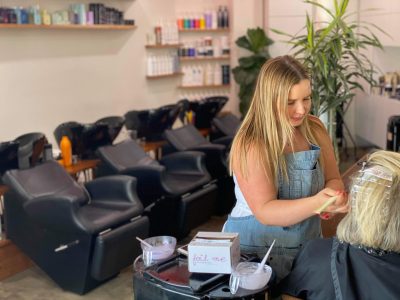 Sammy: As you said, you've got your own business – LBH salon – Was that something that was always in the pipeline?
Lexi: Like I said it really wasn't, but all of a sudden I started looking at things I wanted to do different and that's when the thought to do LBH came to life. I feel like the development of the salon has always happened naturally, I really believe when your content with your life and love what you do, things just start happening!
Sammy: It must get stressful managing more staff and clients, Have you got any self-care routines to help you manage the stress?
Lexi: I've been doing it so long now (even in past salon's I've worked in) it all feels normal. The only thing I can say is 'delegate', this is the most valuable thing you can remember to do! If its something you don't need to be spending time doing then don't! You need to pick where your time is most valuable, for me that's looking after my clients and making sure the salon is always running as seamlessly as possible.
Also massages! Complete bliss where your mind completely shuts off for 2 hours, its the best feeling!!!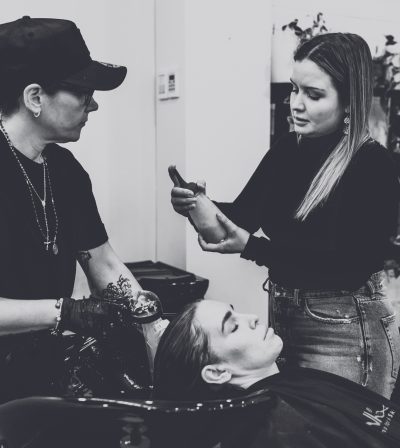 Sammy: Any advice for other local women looking to start a business?
Lexi: I know people who have done the daily workings for a business they have been working for and think that's all there is to it, but remember it becomes much bigger than that. You need to manage the cash flow for the business, which again sounds super easy but learning how to do all that can take a little while to handle. Make sure you have the top of the line accountants. I use Benchmarc and I wouldn't be so ahead with my business if it wasn't for them teaching me to always be prepared! Also another super important thing for me was connecting with the right people who I knew would help me get my name recognised within the community.
One last thing! My motto is 'sink or swim!' Take the risk! You won't grow if you don't!
Sammy: What's one of the biggest lessons you've learnt through running/starting a business?
Lexi: Make sure you surround yourself with the RIGHT people who can support you and you know you can trust.
And don't be lazy! You need to put the work in to keep succeeding, there's no more normal week for you anymore. Once you start seeing the rewards pay off you won't look back!
Sammy: What's next for LBH salon, or you personally?
Lexi: There's actually some news that will be sharing in the next few weeks so stay tuned for LBH! Personally, my partner and I are just going to keep building our life together and hopefully one day soon we can start seeing the world again… We'll start with being back in Hawaii! I know that all sounds boring but I'm pretty content with life right now! Although making exercise part of my everyday routine again would be great!