Canberrans will be able to enjoy greater freedoms from this Friday with the ACT's lockdown confirmed to end on Thursday night.
A meeting of the ACT's emergency cabinet on Monday confirmed the end of stay-at-home orders in the Territory at 11:59pm this Thursday 14 October.
Chief Minister, Andrew Barr made the announcement during Tuesday's press conference where he also announced an expansion of the Canberra 'border bubble' from Friday.
The ACT's standing exemption orders, which currently apply to 10 surrounding postcodes, will now include the towns of Braidwood, Goulburn, Cooma and Gundagai.
Additional Postcodes joining the ACT bubble from Friday:
2580 – Goulburn and surrounds
2622 – Braidwood / Araluen / Majors Creek
2627 – Jindabyne and surrounds
2628 – Berridale / Dalgety
2629 – Adaminaby / Cabramurra
2630 – Cooma and surrounds
2631 – Cooma and surrounds
2632 – Bombala / Delegate and surrounds
2633 – Bombala / Delegate and surrounds
2642 – Khancoban and surrounds
2649 – Laurel Hill / Nurenmerenmong
2653 – Tumbarumba and surrounds
2720 – Tumut and surrounds
2722 – Gundagai and surrounds
2726 – Jugiong and surrounds
2727 – Coolac and surrounds
2730 – Batlow and surrounds
People living in approved postcodes will be allowed to travel to the ACT to access education, shopping, healthcare, work and to visit family and friends under ACT gathering limits.
See the ACT's travel arrangements and what's changing from Friday below: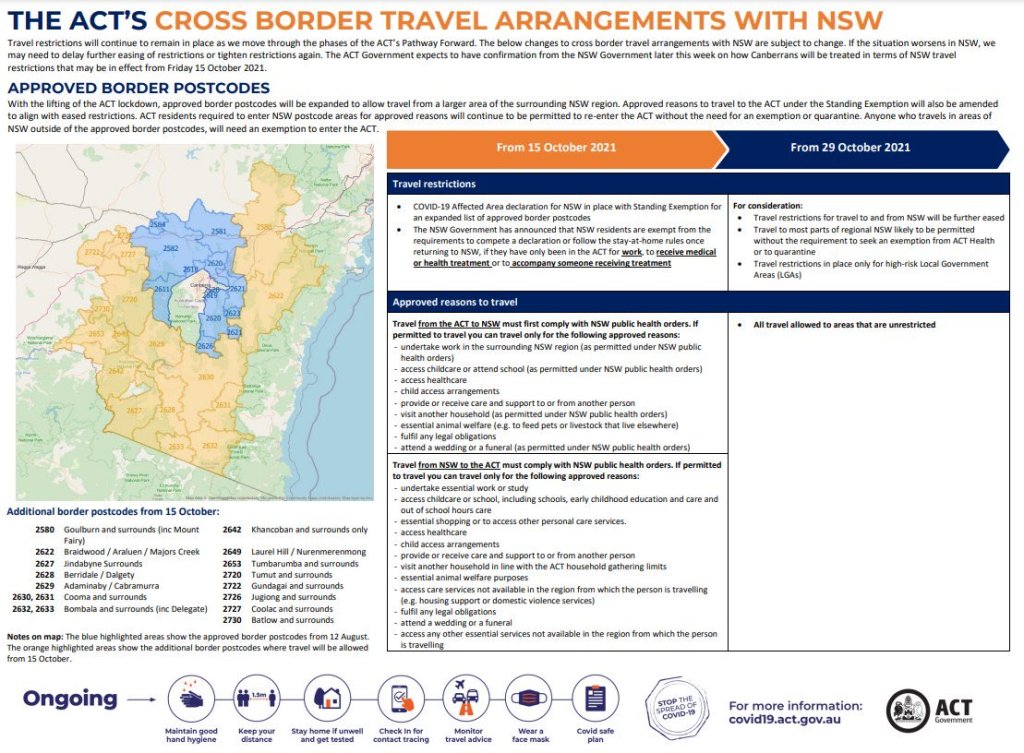 The news comes as the ACT record 28 new cases of the virus on Tuesday.
Of those, 16 present a transmission risk to the community.
There are 19 COVID patients in hospital with 8 in ICU, 6 of those requiring breathing support.
Listen to the latest news below: