The ACT will remain in lockdown for at least another month.
Chief Minister, Andrew Barr on Tuesday announced, based on advice from the Chief Health Officer, the decision has been made to extend the Territory's lockdown for another four weeks.
The stay-at-home orders now expected to remain in place until at least Friday 15 October as the delta COVID variant continues to spread in the Territory and the surrounding NSW region.
"We are still recording cases where the source of transmission is unknown, and cases where people have been infectious in the community."
"Without strong public health measures, our community would be quickly overwhelmed by the virus, particularly our unvaccinated population."
A review of the Territory's lockdown orders will be carried in a further two weeks, at the halfway point of the new extension.
As part of the extension, changes to the current restrictions will come into place from 11:59pm Friday 17 September.
These include allowing social and recreational sport to go ahead with up to five people, this includes tennis, golf and rowing but does not include coaching, training and competitions.
Real estate agents will be allowed to conduct in-person house inspections by private appointment, only household members will be permitted to attend an appointment with one agent.
Small businesses currently operating click and collect or delivery services will now be able to have up to five people in their businesses at any one time, an increase from the current limit of two.
Gatherings in the home, including in outdoor areas, will still not be allowed at this stage.
The soon to be eased restrictions will see the ACT remain in 'Phase A' under the road map to COVID Normal.
Under the plan, ACT authorities will look to gradually ease restrictions locally as the nation reaches vaccination thresholds outlined in the National Plan.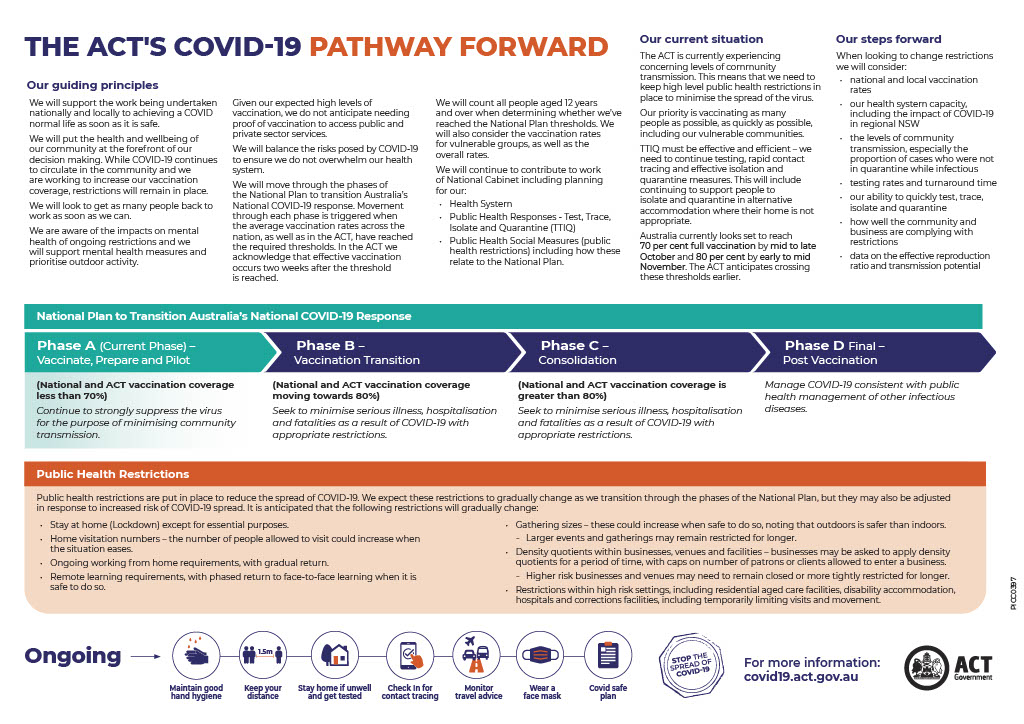 "Based on current trajectories, the nation is anticipated to reach the 70% and 80% effective vaccination milestones in mid to late October and early to mid November." Mr Barr said.
When considering the move to the next phase of restrictions, health authorities will consider the following factors:
Vaccination rates both locally and nationally
The levels of community transmission
Our ability to continue high level test, trace, isolate and quarantine responses
How well the community and businesses are complying with Public Health Directions
Our health system capacity
"Our priority over the next four weeks will be to vaccinate as many people as possible."
"Vaccination will support a safer pathway forward."
It comes as the Territory recorded 22 new cases of the virus on Tuesday, 14 have been linked to previous infections, just 2 were in quarantine for their entire infectious period.
A phased plan for the return of face-to-face learning in the ACT was also unveiled, with Year 12 students to the first to go back from Week 1 of Term 4.
Listen to the latest news below: