Non-essential retail stores in the Territory will be free to reopen their doors to customers from Friday under changes to the ACT's COVID roadmap.
The ACT Government announced the decision on Tuesday morning, bringing forward their reopening to 11:59pm this Thursday 21 October.
Businesses providing essential retail under a click and collect model will also be able open their doors for in store shopping from Friday.
Stores will need to abide by the 1 person per 4 square metre rule.
The decision was made after the ACT reached 80% double dose vaccination rates in the population aged 12+ on Monday afternoon.
See the updated ACT 'Pathway Forward' below: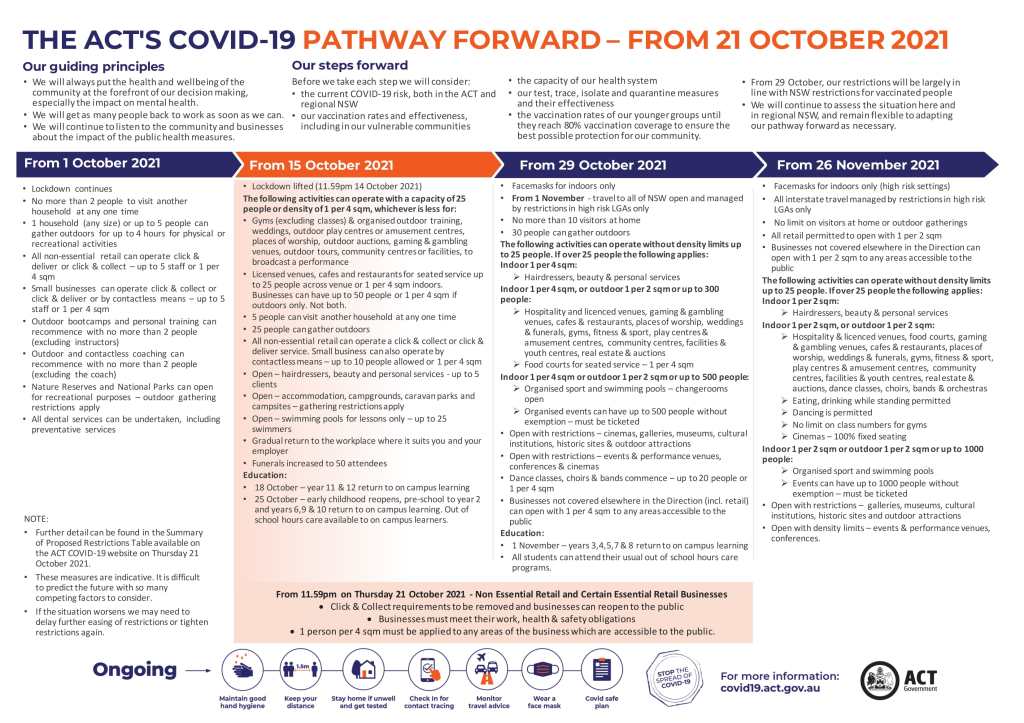 With high vaccination rates and stable average case numbers over the past couple of weeks, the Government has confirmed further easing of restrictions will go ahead from the 29 October.
This includes the relaxation of capacity limits across a number of different industries including hospitality and major events.
From 29 October, food courts in the ACT will also be able to reopen under a 1 per 4 sqm model.
The Government is also continuing to work on the implementation of baseline level public health safety measures that would come into effect from late November or early December.
That includes the implementation of 1 per 2 sqm density limits in hospitality settings.
Changes to travel requirements were also revealed, with the ACT to align its rules with New South Wales from 1 November.
The change means Canberrans will be free to travel anywhere within the state and will also see the return of international travellers without the need to quarantine, if they're fully vaccinated.
Listen to the latest news below: