The ACT Opposition is again calling for greater certainty around the future of public health restrictions in the ACT, following the release of Victoria's road map back to 'COVID normal'.
The Victorian Premier on Sunday unveiled the state's plan, outlining the likely restrictions at each of the state's vaccine milestones.
Under the plan, Melbourne is expected to come out of lockdown on 26 October when the state is projected to reach 70% double dose vaccination coverage in its population aged 16 and above.
At that point, 10 people will be able to meet outdoors with entertainment and hospitality venues allowed to reopen for up to 50 people (fully vaccinated) outdoors.
ACT Opposition Leader, Elizabeth Lee said, under the ACT's plan, Canberrans and businesses alike still don't know when that will be able to happen in The Capital.
"That is the type of detail that was sorely lacking in the road map, or pathway, whatever the Chief Minister wanted to call it."
The Territory's 'pathway forward', unveiled last Tuesday, outlines the different phases and vaccination milestones needed to reach those phases, as per the National Reopening Plan.
It also lists the considerations that local health authorities will use to guide their decisions about future easing of restrictions.
However, It doesn't outline the likely restrictions at each of those phases.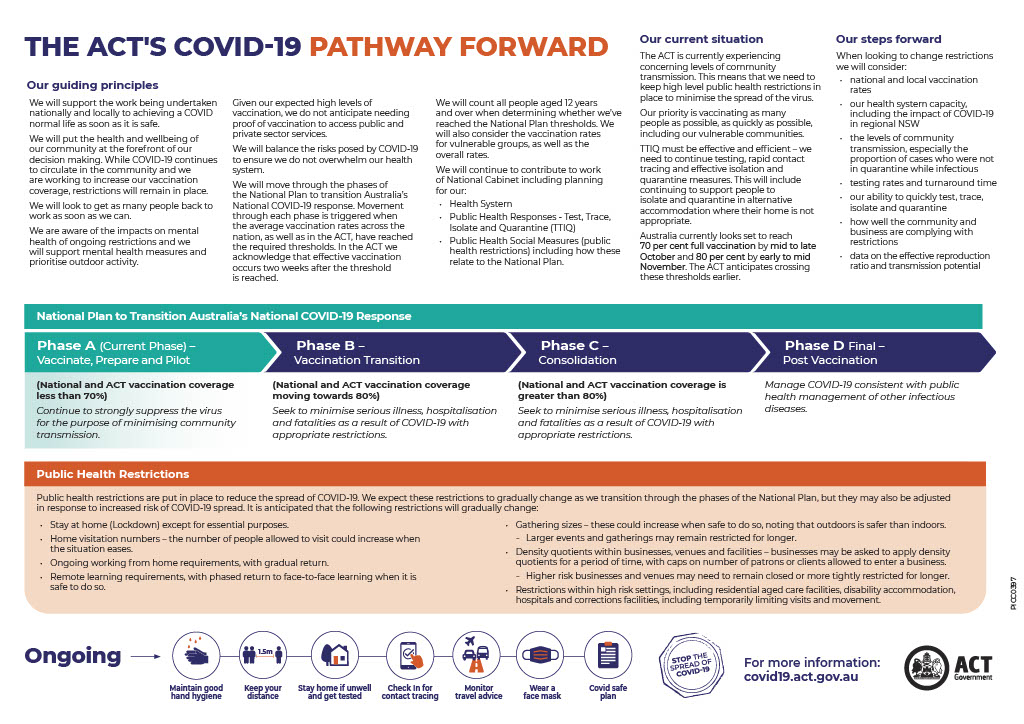 The Chief Minister has previously stated his desire to not provide false hope to Canberrans, choosing to announce changes to restrictions closer to their date of change in a bid to provide complete certainty of the public health settings in the ACT.
However, Ms Lee thinks, by now Canberrans have a good grasp on the nature of the pandemic.
"Whatever plan is released, they understand that if we were to have a massive surge or spike in case numbers, things may need to be adjusted."
The Victorian road map looks as far ahead as December, where it's expected gatherings of up to 30 people will be allowed inside the home by Christmas Day based on an 80% double dose vaccination rate being achieved in the state's population aged 12 and above on 19 November.
"The ACT Government has had access to a lot of modelling which tells you exactly when the ACT will reach certain milestones."
"They should be able to say that if we reach a certain milestone by a certain day what type of restrictions we'll see ease."
The ACT's lockdown is set to remain in place until at least Friday 15 October with authorities to review the situation at the halfway point on 1 October.
Listen to the latest news below: