New South Wales will no longer consider the ACT as a COVID-19 area of concern from 11:59pm Thursday 14 October.
The change means people entering the state from the ACT will no longer need to complete a declaration form and are free to travel across regional parts of the state for any reason.
State health officials made the decision in line with the easing of lockdown restrictions in the Territory on Thursday night.
ACT residents will be subject to the same rules as people in NSW.
NSW RULES:
People who live in regional LGAs can travel anywhere in regional NSW but cannot enter Greater Sydney without a reasonable excuse.
People cannot leave Greater Sydney except with a reasonable excuse.
Holidays and outdoor recreation are not reasonable excuses.
Despite the changes, If Canberrans want to avoid a stint in quarantine upon their return home they must limit their travel in NSW to within the ACT 'border bubble' and for the approved reasons.
ACT RULES:
Travel within the expanded 'Canberra Border Bubble' is allowed for some of the following reasons:
Work
School and childcare
Healthcare
Visiting another household
Animal welfare
Attending Weddings and Funerals
See the ACT's Cross Border Travel Arrangements below: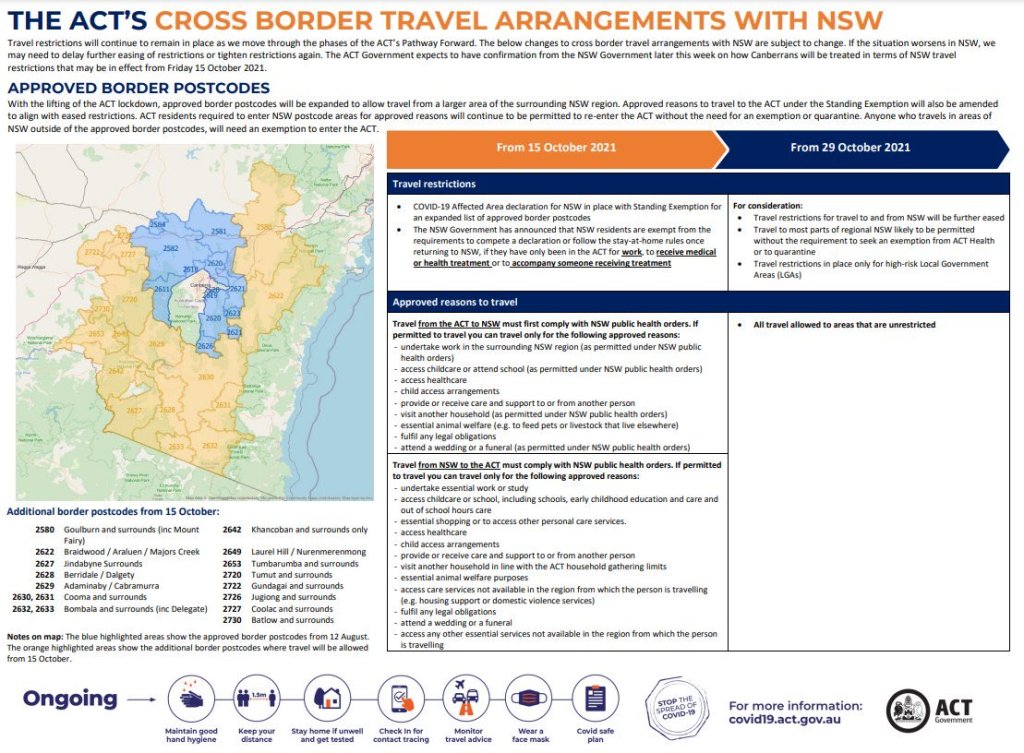 ACT residents who travel beyond the 'border bubble' will need to fill out a declaration form and may be subject to quarantine requirements upon their return.
Residents of New South Wales who reside within an approved postcode but who have travelled elsewhere across the state, outside the ACT's border bubble, within the previous 14 days, will not be able to enter the ACT without seeking an exemption.
People travelling from the ACT into New South Wales must continue to follow isolation requirements if having attended an identified exposure site in the Territory.
Further information about NSW rules can be found here, information about ACT rules can be found here.
Listen to the latest news below: