Author: Cara Ginnan
Three kittens are lucky to be alive, after a member of the public found them in a bin on the side of a road near Kambah!
They were handed in to the RSPCA in Weston, with staff treating them for flu-like symptoms and bringing them back to good health.
The furry trio will be placed into the care of a foster family until they're old enough to be put up for adoption.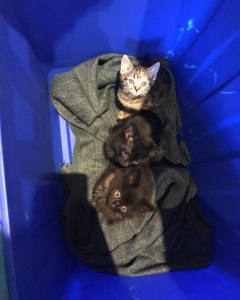 It's prompted the animal shelter to remind locals, there are options available, if you can't look after your pets.
"If you don't want any animals, please come and see us," RSPCA ACT CEO Michelle Robertson said.
"If you find animals that are dumped, especially the little ones, please bring them in. Lets set them up and give them a chance for a good life."
If anyone witnessed anything, or has any information about the kittens, give RSPCA inspectors a call on (02) 6887 8100.
And anyone who needs help with an animal they've found, or who may be struggling to care for their pets, please give the shelter a buzz on (02) 6287 8100.