ACT school students will return to the classroom as planned from next week, under the Territory's COVID-Safe Back To School plan unveiled on Monday.
New students will commence on Monday 31 January with returning students to start on Tuesday 1 February.
Two Rapid Antigen Tests per student and staff member will be made available each week for the first month of Term 1, to allow regular early screening for the virus.
However, ACT Chief Health Officer, Dr Kerryn Coleman said their use is not mandatory.
"This is providing families with an additional means of reassuring themselves that their child doesn't have COVID before they go to school."
More than 200,000 RATs are expected to be distributed in week 1 but ACT authorities couldn't guarantee they'd before the start of the term.
Under the plan, fellow students of a positive case will also not be considered a close or high risk contact.
"People will still be required to report to the school that they've had a positive test, either trough a RAT or PCR, and then the schools will distribute a letter out to those who may have been impacted or potentially exposed to let them know to be particularly vigilant for symptoms."
"But we're really hoping with these risk mitigations in place that the potential for spread will be minimised, noting there are cases in our community and we will see them in our schools."
Large and high risk activities such as assemblies, interstate excursions, interschool sports and choirs will be temporarily paused until Term 2.
COVID-Safe procedures that were in place during Term 4 last year, including the cohorting of students and staffs, staggered start and break times and mask wearing will also remain in place.
See the ACT Back to School Plan below: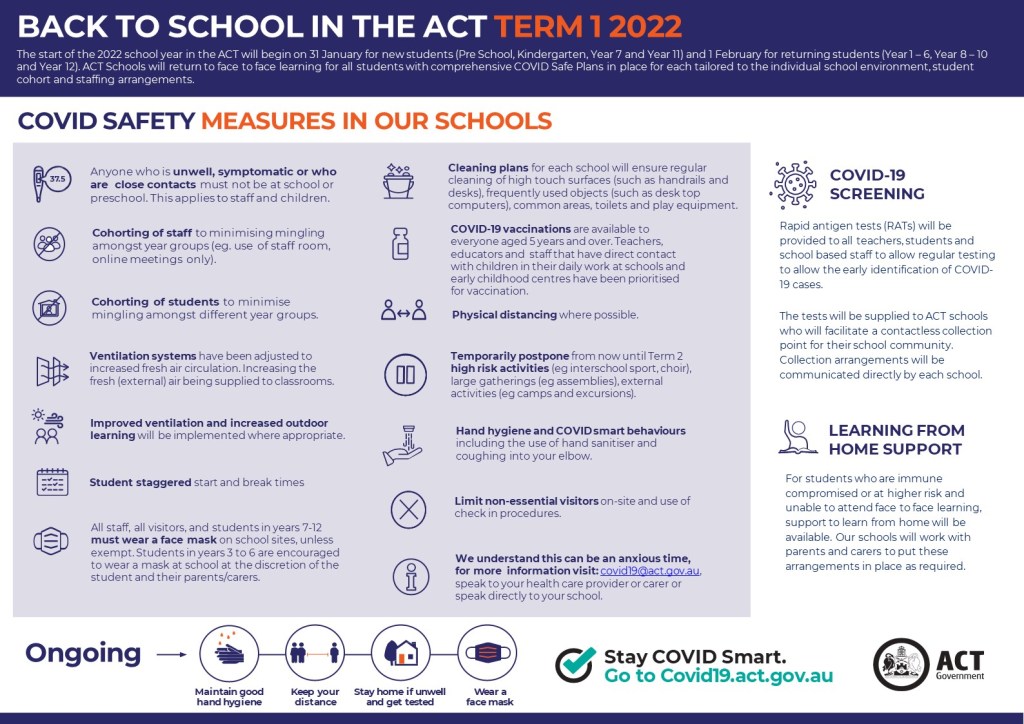 Listen to the latest news below: