Canberra will get direct flights to and from Coffs Harbour for the first time, with Link Airways to run a twice-weekly service from September!
The seasonal service will initially operate flights on Thursday afternoons and Sunday lunchtimes from September 2022 to January 2023, with flights to continue, in line with demand.
"So you can have a long weekend, or up for a week and back the same day the following week. We'll run it through the summer period and hopefully it goes well," Manager of Network Strategy at Link Airways, Jeff Boyd, said.
"Coffs Harbour is a great holiday destination in its own right. It's got beautiful beaches, it's got the hinterland behind you there. It's a very popular place and a great place to visit!"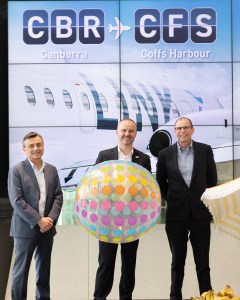 Canberra Airport's Head of Aviation Michael Thompson said it's another positive step in their progression, especially through the pandemic.
"Pre-pandemic we had seven direct routes. Now we've got 13. So lots of opportunity for Canberrans to get away and lots of opportunity for tourists to come to our town," he said.
"It's been a really good change to come into the terminal and see people around, see people excited about getting on planes and going places. We've gone from about 2% of pre-pandemic to about 82% pre-pandemic, so recovery is definitely underway."
Flights start from $189 one way, commencing on September 22.