Sly thieves are gathering their own intelligence on Canberrans who leave their cars unattended while defrosting in their driveways.
It's prompted police to remind local drivers to always be present while their cars are running.
ACT Police said 21 cars were stolen after being left outside warming up last year, and there's already been reports of the same thing happening this Winter.
"A pattern we're seeing from people reporting these crimes is surprise at how quickly this occurred, where they mention they've ducked inside just for a moment, and their vehicle was gone," Detective Acting Inspector Jason Dziubinski said.
"Only last week we had a defrosting vehicle stolen from the front of a home in Campbell. This vehicle was then used in a string of other serious offences throughout the morning."
ACT Police are also aware of cases where thieves are watching homes and keeping records of vehicles left running while unattended.
Seized notebooks show how culprits are staking out certain areas, with a plan to steal the cars and drive off, when the victim goes back inside.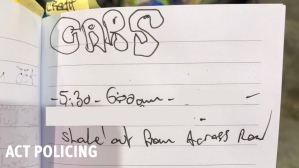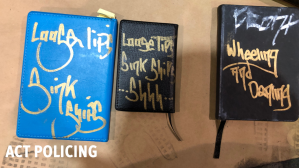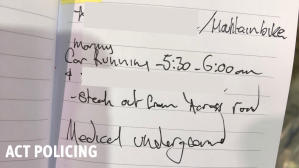 With more frosty mornings on the way, it's also prompted police to remind local drivers not to drive with foggy or icy windows.
"Not defrosting your windows properly does have consequences. You're not able to see all around you which not only puts yourself at risk, it puts other motorists, as well as vulnerable road users, mainly cyclists and pedestrians at risk," Senior Constable Aaron Cherry said.
It is an offence to have an obscured view out of a vehicle – attracting a fine of $205.